WELCOME TO THE MEDIA ROOM!
Please reference this page for downloads, press releases, and product information.
Email: media@thebloodcode.com
Office: (207) 200-4085

  Download synopsis for The Blood Code »
DOWNLOADS

  The Blood Code logo suite »


  Press Release »


  Dr. Maurer's bios »


  Head shots of Dr. Maurer »


  Book cover images»


  Blood Code event description »


  Potential interview questions »
Dr. Richard Maurer is a licensed naturopathic physician, author, and expert in metabolic recovery. Since 1994, in his Portland Maine practice, he helps people fully recover from weight problems, hypothyroid symptoms, prediabetic conditions and type 2 diabetes. His personal tendency toward type 2 diabetes motivates him to provide truly effective personalized solutions for metabolic health. His radical approach, whether in practice or in his book, The Blood Code: Unlock the secrets of your metabolism, empowers individuals to express their metabolic strengths throughout long, healthy lives.

  Download Dr. Maurer's bios and speaker intro »
PRAISE FOR THE BLOOD CODE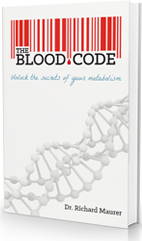 "As I change my habits I change my blood work, which changes my future" − Dr. Derek Libby, Osteopathic Physician
"The way Dr. Maurer correlates blood test results with genetic uniqueness puts you on an evolutionary path to wellness."
– Dr. Priscilla Skerry, Naturopathic Physician
"One of the most useful books I have read on understanding my health" −Antoinette from Asheville, NC
"Dr. Maurer is able to simply explain human health. Since I am blessed with insulin resistance, this book has and will change my, and my family's life. This will be the birthday present for all of my loved ones."
− Ashley Moody, Nurse, EMT, parent

  Download book details and purchase information »


  Purchase the Blood Code book »
CONTACTING DR. MAURER
MAILING ADDRESS:
50-A Cove Street
Portland, ME 04101
PHONE CONTACT:
Office Phone: 207-200-4085
Office Fax: 207-710-5385
Mobile Phone: 207-939-2967
EMAIL: info@thebloodcode.com
WEBSITE & BLOG: www.thebloodcode.com