About Dr. Richard Maurer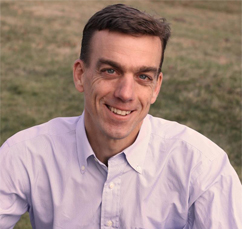 Dr. Richard Maurer is a licensed naturopathic doctor who, after practicing in a primary care setting for over twenty years, now provides a unique perspective on metabolic health and recovery. Dr. Maurer puts you in the driver's seat of your health and wellness, helping you decode blood test results to find the diet and fitness habits that reverse and prevent pre and type 2 diabetes, weight gain and hypothyroid problems. His recent book, The Blood Code: Unlock the secrets of your metabolism [2014], provides the tools to understand and act on key blood tests and skin fold measurements to define your personalized diet, fitness and nutritional needs to recover health and vitality—disease reversal is only the beginning.
His personal and familial trend toward type 2 diabetes motivates him to empower people to recover their metabolic "sweet spot" through proven self-guided diet, nutritional, and fitness habits.
Dr. Maurer is the past president of the Maine Association of Naturopathic Doctors. He presents at health and medical conferences such as Weston Price Foundation, American Association of Naturopathic Physicians and the popular PaleoF(x). He lives in Maine with his wife Alexandra where they have raised three children.
His 2014 book, The Blood Code, is available at Amazon and other booksellers. Follow on Twitter @drrichardmaurer and sign up for more information at TheBloodCode.com. Contact information is at info@theBloodCode.com or 207-200-4085.
SOME RECENT PODCASTS & ARTICLES:
Australian Radio show with Dr Maurer and  Steph Lowe, Fitness Nutrition
Stress & Your Metabolism – an article in the NatPath journal // all of Dr. Maurer's NatPath journal articles are located here.
Schedule consultations at the Portland Maine office and remotely through video conference or telephone.  Call the Maine office at 207-200-4085 to schedule a time – if you have to leave a message, we will get back to you. You can also, click here to link to appointments on our online schedule; you can personally set-up a client account and schedule your appointment.